PAPILLON participating in the 6th International Symposium on Fingerprints held by INTERPOL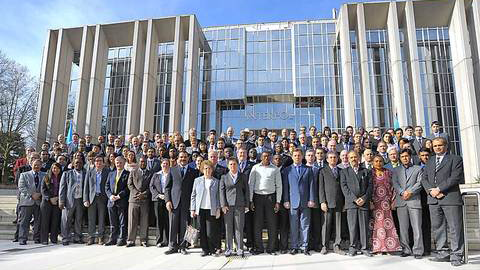 PAPILLON ZAO was represented by Mr.Khabibullin (Head of our Moscow office) and Mr. Podchinyonov (key specialist of the marketing department). In the framework of the symposium, an exhibition showing the production of leading AFIS vendors was organized. PAPILLON's exposition was alongside such prominent companies as Sagem Securite (France), NEC (Japan), CrossMatch (Germany), Cogent Systems (USA), BVDA (Holland), Foster & Freeman (UK).
Our exhibition stand presented:
MDS 40c multifunction livescan and express identity check station
MKDS 30 mobile booking and express identity check station
DPP-3 compact mobile device for in-the-field identity checks
DS-21 and DS-22 fingerprint scanners
The delegates took an interest in our products from the very first day of the event. That interest rose after the presentation by Mr. Podchinyonov on automated identification by palmprints including latent ones as an instrument increasing crime solvability and used technologies and results of the AFIS operation in Russia.
The products developed and manufactured by PAPILLON were highly appreciated by experts from the USA, Germany, France, Spain, the UAE, Australia and many other countries. Most of the visitors noted advantages of our livescan devices as follows: moisture discriminating optics, automatic compensation for smeared images, abilities to automatically detect a finger on the scanner platen and to work with dry/wet fingers, high quality of acquired images. The participants of the symposium particularly mentioned the user-friendly interface and ease of use – no need to wait for sound signals or to try rolling fingers slowly at even speed.
Thus, yet again PAPILLON's developments have been successfully presented at the INTERPOL representative forum. Such a stable and active concern in our products can be appraised as acknowledgement of high standards demonstrated by PAPILLON software and hardware solutions.