PAPILLON ZAO at 7th INTERPOL Fingerprint Symposium
Created on Monday, 28 May 2012 15:46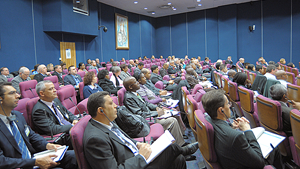 The 7th International Symposium on Fingerprints brought together law enforcement and identification experts from around the world to share information and the latest updates relating to biometric data. The theme of the event was: 'Fingerprints and Interoperability'. The leading AFIS vendors, such as Morpho, Cross Match, Foster & Freeman, Cogent, NEC, PAPILLON, Horiba and others, were invited to present their latest developments in the AFIS technology. PAPILLON ZAO was represented by Ivan Shapshal, the Deputy General Manager, and Alexey Podchinyonov, a senior engineer of the marketing department.
During this three-days meeting, 150 delegates from 51 countries discussed the latest advances in the scope of identifying individuals by fingerprints and maximizing the opportunities to combat transnational crime and illegal migration.
Addressing the meeting, Executive Director of Police Services Jean-Michel Louboutin highlighted the new tools and standards developed by INTERPOL to receive and treat fingerprint data from member countries even more rapidly. "The evolution of fingerprint technology is one of the fastest growing, most reliable and effective ways of identifying criminals, especially those trying to evade justice," said Mr Louboutin.
Head of INTERPOL's fingerprint unit, Mark Branchflower encouraged the delegates to promote greater use of INTERPOL's Automated Fingerprint Identification System which provides instant access to the organization's central global fingerprints database.
Ivan Shapshal addressed the meeting with his report on 'Solving the Problems of Tenprint-to-Latent Searches in AFIS/APIS'. The said problems, topical for all AFIS systems, have been efficiently solved in PAPILLON AFIS.
PAPILLON's products presented at the exhibition:
Multifunctional Livescan Station PAPILLON MDC 40C (with the software of PAPILLON AFIS ver. 8)
Mobile Versatile Professional Complex PAPILLON-M (with the software of PAPILLON AFIS ver. 7)
Automated Workstation for Forensic Experts PAPILLON RASTR & ExpertLab
Compact Mobile ID Devices DPP-3, DPP-4 and DPP-5
Evidential Photography and In-the-Field Identification Mobile Kit (PAPILLON-FOSKO + PAPILLON-LATOP)
All products aroused interest of specialists, especially PAPILLON's live scanners and a combination of PAPILLON-FOSKO and PAPILLON-LATOP highly appreciated by experts.
Participation in the INTERPOL Symposium proved that PAPILLON's developments are in line with the world ongoing trends in fingerprint technology and even ahead of those made by other world leaders in fingerprint identification on some of strategic points.